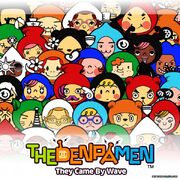 The Denpa Men: They Came By Wave is an RPG developed and published by Genius Sonority for the Nintendo 3DS. The game revolves around capturing Denpa Men , human-like creatures that live in radio waves, to form a team to explore mysterious dungeons and dangerous enemies.
The game released on February 8th, 2012 in Japan, September 27th, 2012 in America and December 6th, 2012 in Europe.
Using the Nintendo 3DS's camera, the Denpa Men will appear on the screen in Augmented Reality.
An unlockable building can also enable them to be caught using QR Codes.
Every time a player starts a new game, the protagonist Denpa Man, chosen at random, will appear on the screen asking the player for help to save their special person from the King of Evil.